The benefits of Licorice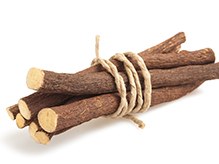 Licorice Root health benefits includes maintaining digestive health, treating rheumatoid, protecting the liver, treating canker sores, boosting immune system, treating tuberculosis, fighting various infection, preventing respiratory disorder, detoxifying the body, supporting weight loss, supporting healthy skin and maintaining oral health..



Maintains Digestive Health
Enriched with phytonutrients, incorporating licorice root into your diet in any form can prevent your stomach from the development of Helicobacter pylori bacteria. You can also consume licorice tea to ward off symptoms associated with dyspepsia and indigestion. Moreover, regular consumption of the tea can also maintain the health of your digestive tract.
Treats Rheumatoid
Studies have shown that the roots of licorice are loaded with anti-inflammatory components that can help treat rheumatoid arthritis. Various studies have also suggested that regular use of licorice extracts can provide relief from constant swelling and pain. However, in serious health conditions like this, you should not opt for self-medication but consider expert's advice instead.
Protects Liver
Nutritionists recommend consuming a diet packed with phytonutrients as they are necessary to maintain your liver health. A recent study revealed that glycyrrhizin – one of the phytonutrients could combat factors that contribute to liver toxicity. When consumed in the adequate amount, the nutrient function to neutralize high levels of liver toxicity restoring normal functioning of the liver. Moreover, it can also prevent your liver from the effects of oxidative stress. However, more studies are underway to support the claim.
Treats Canker Sores
Canker sores are tiny and noninfectious lesions that occur in the tissues of your mouth and gums. The condition is excruciating. Nutritionists suggest treating the condition with licorice extracts. The latter will alleviate inflammation and pain in a short time. It is suggested to consult with your primary care physician in this context to avoid further health damage.
Boosts Immune System
You can maintain your body's defense mechanism via consuming nourishing foods like licorice tea. It is a powerhouse of selenium, zinc, magnesium, potassium, iron and various phytonutrients that function to boost your immune system naturally. When consumed regularly, the components of licorice tea will begin strengthening immune cells that will ward off infectious bacteria, toxins, chemicals, and cancerous cells.
Treats Tuberculosis
Licorice is abundant in antimycobacterial and antimicrobial compounds. Thus, the root is said to be effective in the treatment of pulmonary tuberculosis. Studies have shown licorice help speed up the healing process as well. Moreover, the components also function well to treat lung infections that make licorice root a powerful antitubercular agent. However, in case of pulmonary tuberculosis, you should refrain from self-medication.
Fights Various Infections
Like other teas, licorice tea can also treat various infections due to glycyrrhizic acid found in it. Studies have revealed that it could provide the lasting solution in case of bacterial and fungal infections. Your body can fall prey to various viruses such as herpes virus. Regular consumption of the tea is said to fight herpes virus preventing the spread of cancerous cells in your body.
For Atherosclerosis
High cholesterol levels can contribute to affect your cardiovascular health. That is why experts suggest maintaining cholesterol levels. Enriched with zinc, potassium, and flavonoid glabridin extract from licorice root can help balance out your cholesterol. It is said to prevent the buildup of low-density lipoprotein alleviating the risks associated with chronic diseases such as atherosclerosis.
Prevents Respiratory Disorder
It would not be wrong to claim licorice root as an expectorant. The former can effectively remove mucus including other substances – where bacteria live from your bronchi and lungs. Sipping on the tea made with licorice root alleviate constriction in your airways that is necessary for the asthma patients. Apart from this, licorice root is highly beneficial when it comes to treating cough, cold, and sore throats. However, refrain from treating respiratory problems with home remedies and consult with your primary care provider regarding proper treatment.
Works as a Detoxifier
Licorice root can work as a detoxifier. The components found in it help flush out toxins, chemicals, excess salts from your body. It will help maintain your liver help as well as the overall body. You can consume licorice tea or incorporate its extract into your daily routine. The natural detoxifiers such as licorice root do not contain harmful effects. Thus, you can opt for it to eliminate toxic wastes leaving your body cleansed and healthy.
For Obese
It is a powerhouse of flavonoid oil that possesses anti-obesity action. Studies have revealed that licorice root can significantly reduce the presence of triglycerides and abdominal adipose of your body.
For Healthy Skin
Enriched with plenty of minerals, vitamins, and phytonutrients, licorice tea can improve the condition of your skin making it smooth and soft. Moreover, it has soothing and healing properties as well that will help alleviate swelling, itchiness, and redness in case of skin problems like eczema and psoriasis. You should consult with your dermatologist in case of severe skin irritation and redness and avoid home remedies.
Maintains Oral Health
Licorice root can do wonders for your oral health. The antibacterial components of the root can effectively ward off bacteria present in your mouth. If they go unnoticed for a longer period, oral problems could result in oral cancer. Moreover, concerning its tremendous qualities, toothpaste and mouthwash manufacturers have started incorporating it into the products.